Makeup brushes are widely regarded as the hardest working tools in the beauty industry. The pros at IT Cosmetics took this belief one step further when creating our award-winning Heavenly Luxe™ makeup brushes. They truly do the work for you to deliver flawless coverage every time. How, exactly, are we able to make this promise? Read on for what sets our makeup brushes apart and how you can use them to achieve complexion perfection—effortlessly!
When choosing the best makeup brushes, the type of brush hair matters.
All IT Cosmetics makeup brushes are cruelty-free and made with ultra-plush synthetic hair that doesn't shed. Synthetic hair is typically more hygienic than using your fingers, and because the hairs are smooth, non-porous and lay flat, they won't absorb excess product the way makeup sponges can. The bottom line: You'll save money in the long run by investing in high-quality brushes now.
The type of makeup brush handle matters, too.
Good ergonomics don't just apply to your office space—they make a big difference in your makeup brushes! When applying makeup to larger areas of your face, you'll want to use a makeup brush with a rounded, soft-touch grip handle for maximum comfort, like this powder and bronzer brush. When applying products that require more precise application, you'll benefit from a streamlined handle that's weighted to give you better control. Our best-selling dual-ended concealer brush is a great example.
Custom-cut makeup brush heads allow for more control of your coverage.
How much color—and how much coverage—your brush delivers largely depends on its shape. Remember this tip from Kirsten Petersen, senior regional education manager for IT Cosmetics: "Shorter, densely packed brush hairs give more color payoff and fuller coverage. Longer, fluffier hairs give a sheer wash of color and lighter coverage."
Coverage is especially important when it comes to foundation. For example, if you have freckles and you love them, you'd probably prefer a fluffier foundation brush that gives a more sheer-to-light application of foundation. If you want to hide your freckles, a dense, flat-topped brush will provide medium-to-full coverage.
The same rule applies to all your face makeup and eyeshadow products, as illustrated in the picture below.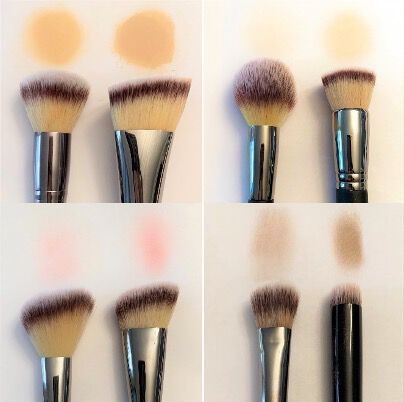 Top left: Heavenly Luxe Complexion Perfection Brush #7 (left) & Heavenly Luxe Bye Bye Foundation Brush #22 (right)
Top right: Bye Bye Foundation Powder applied with Heavenly Luxe Wand Ball Powder Brush #8 (left) & Heavenly Luxe Flat Top Buffing Foundation Brush #6 (right)
Bottom left: Bye Bye Pores Blush applied with Heavenly Luxe French Boutique Blush Brush #4 (left) & Heavenly Luxe Angled Radiance Brush #10 (right)
Bottom right: Shade "Sassy" from the Superhero By Day Eyeshadow Palette applied with Heavenly Luxe No-Tug Dual Eyeshadow Brush #5 (left) & Superhero 4-in-1 Super Shadow and Liner Brush (right)
Even the best makeup brushes need a little help from you to stay in top condition.
Knowing how to properly clean your makeup brushes ensures they'll continue to provide the flawless coverage you've come to expect. For starters, consider a weekly application of IT's Your Brush Love, a one-step, fast-drying, alcohol-free cleansing spray that's full of skin and brush-loving ingredients.
PRO TIP: To help minimize the buildup of oils from your skin that can linger on your makeup brushes, dip them into a small amount of talc-free setting powder every time you switch between products or after a cleaning session. Doing this simple step will also help your brushes maintain their shape!
Learn more pro tips for how to clean your makeup brushes.